GUARANTEED TIRE FAILURE!
By John Anderson (Founder, A'Weigh We Go)
Sometimes it takes a tragedy, like the recent fatal motorhome accidents, to wake us up to something that we really already knew we should be concerned about, but just never gave it a priority. After all, bad things only happen to other people, right?

After 8 years and having weighted more than 10,000 RV's, I can tell you with confidence that thousands of RVers are traveling down the road on overloaded tires that could fail at any time, with potentially catastrophic results. Does this alarm you? I HOPE SO! And, if your safety doesn't concern you, how about the fact that operating n our highways over a tire rating is a violation of government regulations? Does that concern you? Does the fact that members of our RV family are dying on the highway hit close to home?
The RV Safety Education foundation has a POSITIVE SAFETY EDUCATION Program, and it is not our style nor intention to endorse our condemn any product or manufacture. We accomplish our goals through education! I don't normally write "alarming" articles but sometimes we feel extremely frustrated when we don't seem to be getting our message across, and when we are in possession of information that not only can save lives, but can predict the loss of life!
Our goal is to ensure that every RV owner understand tire loading limitation and VERIFIES that his or her coach is operated safely. I recognize that not everyone has an opportunity to attend an A'Weigh We Go Safety Seminar, so let's review the basics.
Tires, like most everything else we make are designed to operate with a specific load: we call this tire load rating. On the sidewall of your tires you will find a rating for a single application (the front or tag of your truck/motorhome or your trailer axel) and dual tire rating (the drive wheels). This rating is accompanied by an inflation pressure that, if used, will give you the stated rating. This does not mean that this inflation pressure is correct for your RV!

Inflation pressure must be set based on the load being carried by the tire, if you wish to achieve optimum life and performance from your tires. Every tire manufacturer publishes LOAD/INFLATION tables for their products, which provides us this critical information.
I suspect that most RVers already understand the basic information, but where I fear the message is being lost, is in the manner in which we use these tables. We need to recognize that RV's are not built symmetrically! Or the more than 10,000 RV's we have weighed, we have never weighed one that we loaded equally on both sides! Think of it: you would not expect to! We have slide out rooms, generators, refrigerators, holding tanks, fuel & water tanks: the list goes on & on. The only way to properly weigh an RV to ENSURE that you are within your tire ratings is to WEIGH IT BY INDIVIDUAL WHEEL POSITION! Once you have done this, NOW you can pressure for your tires. If the load is greater than the maximum rating shown on the sidewall, YOU MUST CORRECT THE SITUATION, either by reducing the load on the tire by unloading or redistributing the equipment in the coach, or upgrading our tires to ones with higher load capacity. Tires come in many different load ranges, so it may be possible to change to a high load rating tire within the same size, but BE SURE YOU DO NOT EXCEED THE LOAD RATING OF THE WHEEL! If you change tire sizes, be sure you consult with an industry expert, to ensure hat proper fitment and vehicle compatibility is maintained.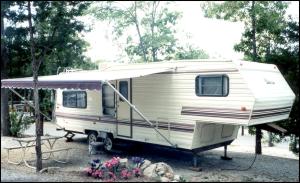 Be certain that you have the correct load/inflation table for the MANUFACTURER of your tire! Different tire manufacturers use different specification! For example, you CANNOT use a Michelin table for most sizes larger than 16 inch for other tire manufacturers. If the tire size matches, AND the data on the far right of the table for your load range matches the information of the side wall of your tire, then you have the correct table. Find the load you measured on the applicable line, dual or single, and move up to the corresponding MINIMUM inflation pressure for the load. Since your RV weight varies considerable with fuel, water groceries, etc., it is important that you weigh your unit in it's heaviest configuration, or how your normally travel. Since inflation tables give us the MINIMUM pressure to carry the load, we suggest that you move to the right one block, or 5 psi, to give your a safety margin. We normally recommend that all trailer tires be set to sidewall pressure due to the higher loads that result from trailer sway. The Tire & RIM Association manual indicates that we can inflate our tires 10 psi over the pressure indicated on the sidewall for Light Truck (LT) tires, and 20 psi for truck & bus tires, however, this DOES NOT increase the rating of the tire, but simply helps it to run cooler. If you find that your load exceeds the chart rating, address the cause, YOUR COACH WEIGHT! Don't try to compensate by straining the capacity of your tires.
You can expect to find a different load on each side of the axle. It is important that ALL TIRES ON THE SAME AXLE BE SET TO THE SAME PRESSURE, BASED ON THE HEAVIEST SIDE! If this results in an extremely over inflated tire on the light side, you should correct the situation by balancing your coach. An over inflated tire has reduced "tore patch", or contact the road, and may result in unsatisfactory braking, particularly on a wet road. If you are unable to configure your coach so that it does not exceed a tire rating, contact our dealer or manufacturer immediately and ask for assistance. The do not want your safety to be at risk, but keep in mind, YOUR safety is YOUR responsibility!
This weighting procedure and tire inflation pressure determination is important for all RV's but CRITICALLY IMPORTANT FOR MOTORHOMES ON AIR SUSPENSION CHASSIS, Our data indicated that 11 percent of all the moterhomes we weigh exceed an axle rating, which means you would not detect the tire overload on a truck scale when weighted by axle only. However almost 50 percent of some model air suspension moterhomes exceed a tire rating without exceeding an axle rating and it is not uncommon for us to find tires that exceed their ration by more than a thousand pounds! This will pretty much guarantee you a tire failure! If you have an air suspension motorhome and have not weighed it by individual wheel position, I urge you to do so immediately. The risk is simply not worth another trip without verifying your safety.

One other aspect of tire safety: TIRES DO NOT LAST FOREVER! We never worried about the age of our passenger car tires, because after a few3 years the tread was worn out , and we replaced them. But in the RV world, it is common to find RV's that are perhaps 10 years old with less than 20,000 miles on them, so the tire tread looks good, yet the owner experiences frequent tire failure, and of course, blames the name of the manufacturer engraved on the sidewall for building defective tires. We cannot tell you exactly how long a tire will last because there are so many variables that affect aging of the casing, but we know from statistics that the average service file expectancy of a tire in RV service is 5 to 7 years. In fact, it is important to note the tires age more quickly when not used! Tires are designed to roll, heat up, and release anti-weathering chemicals that help to keep the tire supple and resist aging. In the RV world, we frequently subject tires to the absolute worse case scenario; We sit for a season in the sun and ozone, then pull onto the interstate and dash down the highway at speeds in excess of 65 miles per hour, then park it for a few months, etc., creating an extreme duty cycle. Every RV owner should know the age of the tires on his Coach and be alert for signs of aging. The Department of Transportation (DOT) requires that every tire be marked on the sidewall with its "birthday", or when it was in the mold. Find a string of numbers and letters that start with "DOT" on the sidewall. It's only on one side of the tire, so you may have to crawl underneath to see it. At the end of the string your will find three numbers; the first two indicate the calendar week of the year, starting with "01" in January. The third number is the year, so a "089" might indicate the tire was born on the 8th week of 1999. Unfortunately not all manufacturers supply us with the decade, so this tire might be a 1999 or a 1989. You need to have some knowledge of when the tires were installed. Michelin provides a decade indicator; if you see a small arrowhead just after the last digit 9, it is a 1999 tire. Fortunately, our government has seen fit to resolve this confusion in the new millennium, so tires being built now have four digits; two for the week and two for the year. Be sure you know the age of your tires, and don't risk your safety for the few dollars (relative to an accident) a new set of tires will cost you.

Recreational Vehicle Safety Education Foundation (RVSEF) is nonprofit organization dedicated to recreational vehicle safety. RVSEF hosts Life on Wheels education conferences and bring safety education to RVers through seminars held at RV rallies, dealer shows, and industry events. RVSEF exists solely through industry support. You can find our scheduled events on our web site at www.rvsafety.com or call us at (321)-453-7673, or e-mail us at staff@rvsafety.com. They publish a comprehensive Safety Training Program, which is sold for $24.95 plus $5.95 for shipping; The handbook contains all of the information RVSEF uses in their Safety Seminars, and describes how to weigh your coach by individual wheel position. An order form for this program can be found at RVSEF Training Program.
This article is not intended to be a sales pitch for RVSEF, but to save your file, so I urge you to find someplace to weigh your coach properly, AND, use the data to verify your safety.
Abut the author: John Anderson is President of A'Weigh We Go, an RV Weight Safety Program designed to help the entire RV industry; consumers, manufacturers, dealers, and suppliers, resolve the overload problem. John hand his three teams: Curt & Carole Peircey, Neil & Pat LeKander, and Walter & Amy Cannon conduct Weight Safety Seminars and provide RV weighing service at more than 70 events each year, throughout the United States and parts of Canada. A'Weigh We Go is the recognized authority of RV Weigh & Tire issues, and available to consult with RV owners and RV shoppers at no cost. A'Weigh We Go is sponsored by: Michelin Tire, Dexter Axle, Atwood Mobile Products, RV America on Line, Tekonsha Engineering, MOR/ryde, Farm & city Insurance, GPI Corp., Ford Motor Corp., Tire Guard, SmarTire USA, Freightliner custom chassis, ipd Corp., Tenneco Automotive (Monroe), Blue OX Products, and Trailer Saver 5th wheel hitches, These companies make it possible for A'Weigh We Go to bring its services to the RV community.
Editors Note : RVSEF began as A' Weigh We Go (AWWG) in 1993 as an RV weighing program, including seminars on RV Weight and Tire safety . RVSEF is now dedicated to all facets of RV Safety.
Back to Motley RV Repair Home Page Back to Motley RV Repair RV Care/ Use Articles